Ultra-thin sensor for pulse measurement
Date:2021-09-15 00:00
  JDI releases ultra-thin sensor for pulse measurement
  new sensor
  [JDI releases ultra-thin sensor for pulse measurement, which may be used in wearable devices in the future]
  Recently, JDI (Japan Display, Japan Display Corporation) has developed a thin sensor for measuring pulse. The sensor's reading speed is 4.4 times that of previous products, at 19.5 frames per second.
  This sensor can not only accurately identify vital signs (Vital Sign), but also perform biometrics of fingerprints and veins at the same time. It is estimated that it will be used in terminals such as wearable devices, helping to prevent fraudulent use and confusing patients.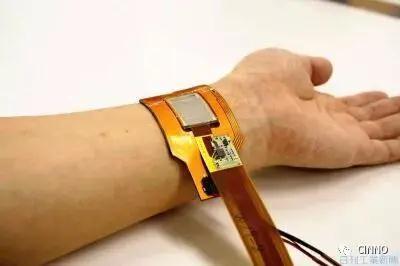 This sensor is reflective, that is, the LED is installed next to the sensor, so it can be made thinner and suitable for wearable devices. TFTs are formed on polyimide resins, and organic photodetectors are mounted on the TFTs. Since the glass substrate is removed, it can be bent and used.
  JDI hopes to achieve mass production in three years.
  【New soft tactile sensor with skin-comparable properties】
  Dr. Yajing Shen, Associate Professor, Department of Biomedical Engineering (BME), City University of Hong Kong, and Dr. Jia Pan, a collaborator at the University of Hong Kong (HKU), have developed a novel soft tactile sensor.
  The sensor uses a multilayer structure similar to human skin and includes a soft and specially magnetized film with a top layer about 0.5mm thick. When an external force is applied to it, it can detect changes in the magnetic field due to the deformation of the membrane.
  What's more, it can automatically "decouple" or decompose the external force into two components - the normal force (the force applied perpendicular to the object) and the shear force, providing precise measurements of these two forces, respectively.
  The sensor could easily be expanded into a sensor array, or even a continuous electronic skin covering the robot's entire body in the future. The sensitivity and measurement range of the sensor can be adjusted by changing the magnetization direction of the top layer (magnetic film) of the sensor without changing the thickness of the sensor. This enables the electronic skin to have the same sensitivity and measurement range as human skin in different parts.
  Also, compared to other tactile sensors, the sensor's fabrication and calibration process is much shorter, facilitating practical applications.
  Sensor Finance
  [TCL invested 1 billion to build a semiconductor company, focusing on chips and power devices]
  Last night, TCL Technology issued an announcement that TCL Technology Group and TCL Industry intend to jointly establish TCL Semiconductor Technology (Guangdong) Co., Ltd.
  The proposed registered capital of TCL Semiconductor is RMB 1 billion, and the two companies will invest RMB 500 million respectively, each accounting for 50%. TCL Semiconductor will serve as the company's semiconductor business platform, focusing on industrial development opportunities in integrated circuit chip design, semiconductor power devices and other fields.
  In the field of integrated circuit chip design, referring to the Fabless model in the industry, TCL Semiconductor will focus on the development of chip categories that are in high demand in upstream and downstream related industries, such as driver chips and AI voice chips. By attracting external professionals and improving team capabilities , to promote the production of special-purpose chip products. In the field of semiconductor power devices, TCL Semiconductor plans to further expand production capacity, improve the core technical capabilities of the device business, and take the lead in breaking through the market.
  [Pioneer sells map information subsidiary IncrementP to Polaris Capital for 30 billion yen]
  Japan's Pioneer has decided to sell its map information subsidiary IncrementP to Polaris Capital Group. Sales are expected to be around 30 billion yen.
  Pioneer will secure investment funds for commercial vehicle operation management services, etc., to speed up business reconstruction. Pioneer fell into a business crisis due to a failed investment in plasma TVs and a shrinking market for in-vehicle equipment. In 2019, it was acquired by Baring Private Equity Asia, and the stock is privatized, and the operation is being rebuilt.
  Sensing dynamics
  【Completion of the first vehicle-grade solid-state lidar production line in China】
  On March 10, it was reported that the first vehicle-grade solid-state lidar production line in China was completed, and the RoboSense (RoboSense) M1 will start mass production and delivery of fixed-point projects in the second quarter. The official said that since July last year, the M1 has successively received fixed-point cooperation orders for several mass-produced models around the world.
  [Lynred and NIT collaborate to develop next-generation short-wave infrared sensors]
  Two French sensor companies, Lynred and New Imaging Technologies (NIT), announced that they will collaborate on the development of a new generation of short-wave infrared (SWIR) sensors.
  Lynred plans to invest 2.8 million euros in the research and development of small pixel pitch infrared detectors. The short-wave infrared sensor to be developed is a sensor with high sensitivity and high frame rate, which can meet the accuracy and yield requirements of industrial process control scenarios.
  NIT, in cooperation with the French National Institute set up at the Sorbonne University in France, hopes to produce short-wave infrared sensors by depositing the quantum dot material mercury telluride (HgTe) on the readout circuit (ROIC). The Sorbonne University Nanoscience Institute is developing and producing quantum dot materials with wavelengths ranging from short-wave infrared to mid-wave infrared that are sensitive to HgTe. Initial tests of NIT's ROIC deposition quantum cascade detector (QCD) have yielded impressive results.
  This research enables low-cost and small pixel pitch focal plane arrays that can extend the spectral range of short-wave infrared cameras to 2.5 µm.